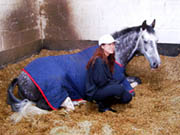 With Trio in his stable, UK.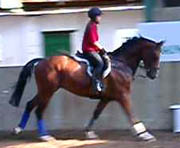 Riding Dickie in the indoor, UK.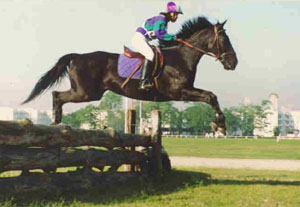 Cross-country with Night Fox.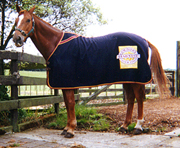 BJ in New Zealand 1998.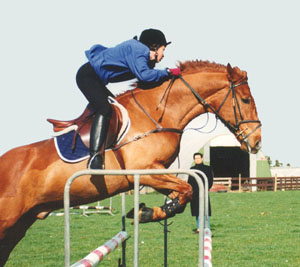 Jumping Take Five in New Zealand.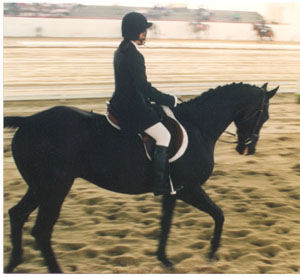 Night Fox and I competing at the Merdeka Cup 1992.

Donovan: my horse in England while I was at Benenden.

Papa and Stormy, our first horse. We got him as a five year old, he came to us as an ex-racehorse.
PHOTOS
- Arrival at Quarantine
- 1st Kiara Show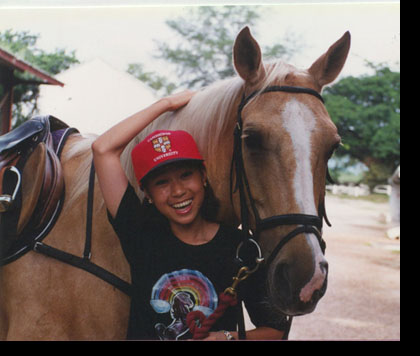 Just For Fun (above) : My most special and dear horse, he is still with me and a retired showjumper. He will always always have a special place in my heart. Click here for more on Justy Boy!
It's Trio: Latest addition to our family. I went with Chris to the UK in search for new horsey friends to bring home, and he caught Chris' eye on the very first day. He's 5 and very very cute. And so springey! Click for more on Trio!
Milton Bonanza (Dickie) : Best friends with Trio, we got him the same time as Trio from Selina. He's only 4 and a real baby and I hadn't intended to buy something so young, but after I sat on him, it was like "He's got to come home with me..." Click for more on Dickie!
B.J. : Leanne found him for us when we said we were looking for a horse just like Justy Boy. That same day, someone told here there was this super horse that was up for sale. She tried him, he was perfect, so she got him. An eventer before, he spooks at nothing. Click for more on BJ!
Night Fox : the Mystic. Mummy saved this horse and brought him back from near death - he suffered so badly from dehydration. He was a superb jumper but had this thing about refusing. I think when I got Just For Fun, he felt left out, and stopped going so well. He would always go better when JFF was having a rest and I was concentrating solely on him. He is a horse who needs a LOT of attention. One thing about him was his colour - jet black. He was magnificent to look at. Click here for more on Night Fox.
Donovan (left): My horse in the UK while I was studying there. He was so superb. Click for more.
Stormy : My dad's horse. We got him when he was 5. A thoroughbred trained to race, very beautiful but very difficult... I tried doing some small shows on him, but most of the time I came unstuck with his massive bucks, so after one fall too many we gave him to my dad. He absolutely adores this horse!
Take Five : Rode this fella in New Zealand. Very talented and easy to ride. Chestnut 16 hhs, I rode him with Leanne for a week while we were in New Zealand for a fortnight for a holiday. The Dewals came with us and Norinne tried out Chapter 2 and Kramer.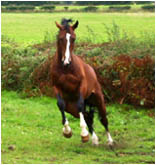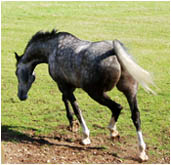 Above: Dickie (left) and Trio (right) enjoy time out in the field.