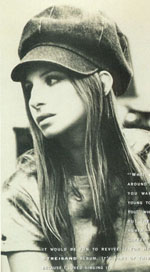 Such a beautiful song, even when it was sung in the musical by Rodgers and Hammerstein, but Streisand does it so much jusice. She recreates the different song in her own personal style and his makes a gorgeous love song for anyone, Sreisand fan or otherwise.
From "The Broadway Album", track #2.
Song from "CAROUSEL"
Music by Richard Rodgers
Lyrics by Oscar Hammerstein II


If I loved you
Time and again
I would try to say
All I'd want you to know

If I loved you
Words wouldn't come
in an easy way
Round in circles I'd go

Longing to tell you
But afraid and shy
I'd let my golden chances
Pass me by

Soon you'd leave me,
Off you would go
In the mist of day,
Never never to know
How I loved you
If I loved you.