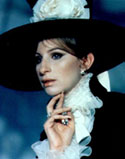 A "standard" song is one that stands the test of time... like "God Bless the Child", which Billie Holiday sang with such anguished eloquence. It was a favourite of Jon Peters, who suggested that I do it.
I thought putting together "A Quiet Thing", from the Kander and Ebb Score for FLORA, THE RED MENACE, and "There Won't Be Trumpets", a song dropped from the Stephen Sondheim show ANYONE CAN WHISTLE, would complement each other. Both tell a dramatic story, like most of my favourite songs.
No one at the record company, however, shared my enthusiasm. They thought the songs didn't belong on a "contemporary" album like BUTTERFLY. I agreed... partially, because I knew that one day I woudl release them. Recording that medley is what first got me thinking about doing a Broadway album.

When it all comes true
Just the way you planned
It's funny but the bells don't ring
It's a quiet thing
When you hold the world
In your trembling hand
You think you'd hear a choir singing
But itís a quiet thing

There are no exploding fireworks
Where's the boring of the crowds
Maybe itís the strange new atmosphere
Way up here among the clouds

There won't be trumpets or balls of fire
To say he's coming,
No roman candles, no angel's choir
No sound of distant drumming,
He may not be the cavalier
Tall and graceful, fair and strong,
Doesnít matter just as long as he
Comes along

But not with trumpets or lightning flashing
Or shining armor,
He may be daring, he may be dashing
Or maybe he's a farmer,
I can wait, what's another day?
He has lots of hills to climb
And a hero doesn't come till
The nick of time

Don't look for trumpets or whistles tooting
To guarantee him,
There won't be trumpets, but sure as shooting
You'll know him when you see him

Don't know when, don't know where,
I can't even say that I care
All I know is the minute you turn
And he's suddenly there
There won't be trumpets
There are no trumpets
Who needs trumpets?
Happiness comes in on tiptoe
Well what d'ya know
It's a quiet thing
A very quiet thing