Click here to listen to midi file of "I Finally Found Someone" as you surf.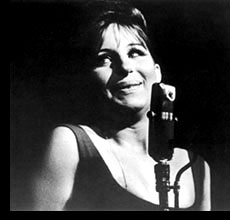 Barbra walked into the audition for "I Can Get It For You Wholesale" at the St James Theater on Nov 16, 1961, wearing a tattered fur-trimmed coat, tennis shoes and a knit cap. The production staff knew they were in for something the moment they saw her, but didn't know what. He hair was a mess and was loaded down with a case full of sheet music and another with sandwiches. As she walked across the stage, she dropped the case and sheet music floated everywhere. She went to pick it up, her bag tangling in her coat sleeve. While this would have been a disastrous situation for any other performer, it worked in Barbra's favour. She had her audience in stitches already; they were unsure whether she was a comedic genius or a freak, and she had barely uttered a single word.
After introducing herself in a manner which drew a few more laughs, she began her audition. She plopped down on chair, removing a wad of gum from her mouth and sticking it under the chair, then careening across the stage while singing her audition song. She was dazzling. They asked her back for another audition for David Merrick, the famed Broadway producer. After she had left and the magic had worn off, the director asked the assistant to check under the chair. There was no gum; her whole demeanour had been a brilliant act.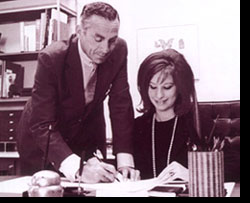 David Merrick had to see her audition 5 times before he was convinced that she was the right choice for Miss Marmelstein, which was originally written for an actress in her fifties. Not only did he find Barbra unattractive, he thought she was downright weird. However, he finally gave in and Barbra was cast in her first Broadway play. From the outset of rehearsals, Barbra behaved not like a 19 year old in her first big show, but like a temperamental, demanding and difficult superstar. She consistently showed up late, argued with the director, and refused to do a scene consistently, much to the annoyance of her fellow thespians. She even refused to be conventional in the bio she wrote for the program, in which she claimed she was born in Madagascar and raised in Rangoon. She explained, "I played the part of a Brooklyn girl. How boring it would have been to say I was from Brroklyn." Despite the complaints from the show's press agent, the bio was published as Barbra had written it.
Her behaviour did not endear her to Merrick. Her tardiness left him to file a complaint with the stage union, Actor's Equity Association, before whom she had to apologize. Merrick was intent on replacing her during trial performances of the show, since her still found her too offbeat and quirky for a major Broadway production. But her amazing vocal talent combined with the strong backing of the show's composer kept her in. Barbra was not the only one on Merrick's hit list. In fact, her bad relationship with the producer helped to solidify her burgeoning romance with the show's star, Elliot Gould, who Merrick was also looking to fire.
Elliot Gould and Barbra, after they started to date, were behaving like two lovestruck teenagers. They had snowball fights in the park, throw food at each other in restaurants and giggled uncontrollably wherever they went. When the show opened on Broadway on Thursday March 22, 1962, Barbra brought the house down. When she uttered her last line, the audience gave her a standing ovation that lasted three whole minutes.
While the show itself received mixed reviews, the critics were uniform in their praise of Barbra's performance. Overnight, Barbra became the toast of the town. She was featured in the top talkshows and magazines, and secured a recording contract with the biggest label at the time, Columbia Records. In her contract with Columbia, she retained "creative control" of her material. She was nominated for a Tony Award and won a New York Drama Critics Corcle Award. The first time out, Barbra had become a star.
"Wholesale" ran for six months, in which time Barbra's relationship with Gould intensified, despite her performance in a supporting role being overwhemingly more successful than his in the leading role. He moved into her small bohemian apartment, and Gould later recalls that the time they were living together before they got married was the best of his life. "We were having a really romantic time," he said.
After "Wholesale" closed, Barbra was already impatient to move onto bigger and better things. She was preparing to appear on "The Ed Sullivan Show" and had beaten several highly respected actresses to be cast in the starring role of a new Broadway musical, "Funny Girl".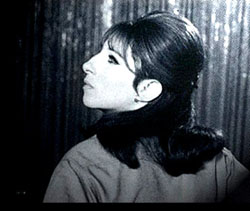 "Funny Girl" was based on the life of Fanny Brice, the famous comedienne and Ziegfeld Follies singing star. The story centers around her romance and marriage to con man Nick Arnstein. The starring role of Fanny Brice, a plain-looking Jewish woman, raised in New York City, with a prominent nose and a voice and comedic persona that made her famous - seemed tailor-made for Barbra. Jule Styne, the show's composer, was so convinced that Barbra was the actress to play Fanny that he began writing songs designed for her voice, before she was even set to play the role.
In the months before rehearsals for "Funny Girl", Barbra Became a recording star. Her first album, "The Barbra Streisand Album", remained in the Top 40 for a stunning 74 weeks and went gold 18 months after its release on Feb 25, 1963. "The Second Barbra Streisand Album" came out in August 1963, and jumped into top 10 on Billboard's chart in the first few eeks of its release. The record stayed in the no.2 spot for 3 weeks and was certified gold after 13 months.
The success of Barbra's albums were helped by her diligent efforts at promoting herself. She toured from coast to coast, opening for the legendary Benny Goodman in New York and headlining at the famous star-studded Cocoanut Grove in LA. Amongst other shows and appearances was her guest performance on "The Judy Garland Show", where she was so good she was nominated for an Emmy Award for Best Variety Performance, the first time a guest star had ever received such an honor.
Despite her busy schedule, Barbra found time for romance, and accepted a marriage proposal from Elliot Gould. They were married on a Friday the 13th in Carson City.
When the musical "Funny Girl" opened at the Winter Garden Theater on March 26, 1964, Barbra took Boradway by storm. The show was a smash success, driven by Barbra's astounding performance. The critics raved and the New York Times said "Barbra Streisand sets an entire theater ablaze… she is the theater's new girl for all seasons".
Although riding high on succes, Barbra was strangely unhappy. "The reality can never live up to tha fantasy, can it?" she told a reporter. She was besieged by fans nearly to the point of distraction, yet her family continually disappointed her. Louis Kind came to see the show, but although Barbra waited backstage for over an hour, her never wen tback to see her, and merely sent her a dish of candy. She kept the dish till 1987. Her mother never praised Barbra to her face. Barbra said, "I wish I could convince my mother I'm a success." Gould also had problems with her popularity. Not only had his acting endeavours failed to win him any notoriety, but his claim to fame was emerging as playing the role of "Mr. Streisand".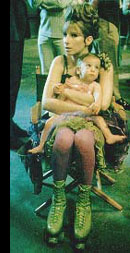 Barbra plunged into more work, gaining further exposure, popularity and professional accolades as she went along. In Feb 1964, "Barbra Streisand/ The Third Album" was released. This quickly rose to number 5 on the charts. In April, the soundtrack of "Funny Girl" came out and climbed to Billboard's no.2 position. A month later, Barbra was awarded the Grammy for Best Female Vocalist for her first album, which also won the Grammy for Album of the Year. She was then, at 21, the youngest performer ever to win both awards in the same year, and still is.
Her fourth album, "People" was released in September and knocked the Beatles' "A Hard Day's Night" out of no.1 spot, giving Barbra a number one album. People won her a 2nd consecutive Grammy for Best Female Vocalist.
Her first two TV specials, "My Name is Barbra" (April 1965) and "Color Me Barbra" (March 1966) garnered huge ratings and fabulous reviews. The former was nominated for 6 Emmy Awars and won 5, including Best Individual Achievement by an Actor or Performer.
On December 29, 1966, Barbra gave birth to a son, Jason Emanuel Gould. She later said of giving birth, "It's a miracle, the height of creativity for any woman." Now the Goulds were a family. Barbra had achieved the pinnacle of everything she had so far attempted, but there was still one area she had not entered. Her next goal was to become a movie star.
Text above is adapted from the following books. Sincere appreciation and thanks.

Her Name Is Barbra - by Randall Riese.
Streisand: the intimate biography - by James Spada.
Streisand: the pictorial biography - by D.Harvey and J.Harvey.

Midi file from the On A Clear Day Jukebox.