Click here to listen to midi file of "People" from "Funny Girl" as you surf.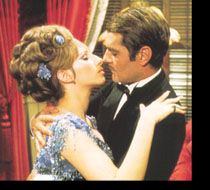 Barbra's last performance as Fanny Brice on the Broadway stage was in December 1965. It would take almost two and a half years for the movie version to hit America and make Streisand the country's biggest female star. By the time she hit Hollywood, she had, in addition to her role in Funny Girl, signed contracts with two other studios for big-budget musicals, "Hello, Dolly!" and "On A Clear Day You Can See Forever", without ever having appeared on film. Ray Stark, who signed her to star in "Funny Girl", at first had trouble landing her a studio deal for the film, mainly because of Barbra's inexperience. Studios were wary of theatrical stars. Many had not made the successful transition to film stardom. Stark, however, was adamant. "I just felt she was too much a part of Fanny and Fanny too much a part of Barbra to have it go to someone else." Columbia Pictures eventually required that she do a screen test for the picture. The film's choreographer, Herb Ross explained, "Once we saw her on screen… we knew that she was able to project on film as well as she projected on stage. In fact, the medium was even more flattering to her. Onscreen she looked a miracle."
After William Wyler was signed to direct the film, he insisted that Ross be hired to direct and choreograph the musical numbers. So all that was left was to find the leading man. Columbia had under contract perhaps the sexiest leading man in Omar Sharif. His stunning performance in "Doctor Zhivago" as well as his continenetal charm made him an easy choice for Wyler. But Sharif was an Egyptian and Barbra a Jew, and the pairing could have been jeopardized by the outbreak of the Six-Day War. Instead, Stark capitalized on the Arab-Israeli conflict, playing up the couple in the international press.
Publicity was enormous, but outraged Arabs condemend the two and Barba's movies have neer played in an Arab country since. On June 17, 1967, Barbra gave a free performance in New York's Central Park for an estimated 135,000 people, the largest audience for any performance there. The concert was taped and aired as a CBS television special, but during the entire evening, because of the controversy over her and Shrif's casting in "Funny Girl" and because of some pro-Israeli statements she had recently made to the press, Barbra feared for her life. So much so that she forgot her lines at one point, after which she vowed never to sing live again. There was no incident, however, and the concert was a great success.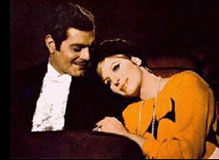 During the making of "Funny Girl", Barbra's reputation as a difficult star was reinforced. She would confront Wyler, who had made more than 60 movies and won 8 Academy Awards, when she disagreed with her over a scene. A crew member related, "Here was this young whippersnapper telling a very noted director how to do his job." But Wyler was not so bothered about such incidents, saying "She was a bit obstreperous in the beginning, but things were ironed out when she discovered some of us knew what we were doing. Sometimes, she would argue for her way. If I was set on my way, that's the way we did it. She was not difficult in that sense. She was very cooperative." The most persistent and undeniable gossip about the production was of Barbra's affair with her leading man, Omar Sharif. While Elliot Gould was in New York filming for "The Night They Raided Minsky's", Sharif and Barbra, according to Sharif, "led the very simple life of people in love." When the filming ended, so did the affair. Some say Barbra ended it in deference to her husband, while others say on-set romances were standard procedure for Sharif. Nonetheless, Barbra went back to New York and to her husband.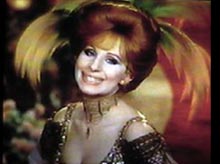 Her next movie, "Hello, Dolly!" was based on Thornton Wilder's play "The Matchmaker". A few hackles were raised when Barbra, not yet 27, was cast for the part of Dolly Levi, who had been written as a woman of "uncertain age". Nevertheless, Columbia hired no less than silver screen legend Gene Kelly to direct the picture and the wonderful character actor Walter Matthau to star as Horace Vandergelder, Dollys love interest. It was not a match made in heaven.
Matthau was an old pro who respected Kelly's career and had previously worked with Kelly on "A Guide For The Married Man". He was also a no-nonsense actor who didn't appreciate the constant "suggestions" that Barbra offerec to the director. There were also rumors that Sidney Chaplin had already poisoned Matthau's mind with horror stories of working with Streisand on "Funny Girl". The big blowup came during filming in New York. Irate that Barbra was constantly giving Kelly suggestions on how he should play his role, Matthau erupted. "Stop directing the fucking picture!" he bellowed. Name calling followed with Barbra calling Matthau "Old sewer mouth." "Nobody in this company likes you," Matthau responded, sending a sobbing Barbra back to her dressing room. "I found it a most unpleasant picture to work on and, as most of my scenes were with her, most distasteful," Matthau later recalled. With a great deal of relief to all involved, the movie wrapped in September 1968, as Barbra's career was about to soar to a whole new level.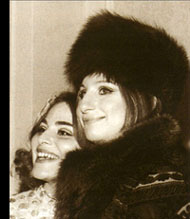 On September 18, Funny Girl premiered at the Criterion Theater in New York, and while the film itself received mixed reviews, Barbra did not. Her performance was "the most accomplished, original and enjoyable musical-comedy performance that has ever been captured on film," raved Newsweek. Even the soundtrack album reached top 25 in a day when pop music was turning away from Broadway to rock and roll. But while her career as a movie star was skyrocketing, her personal life was bottoming out.
Her separation from Elliot Gould was announced in February 1969. There could be several reasons for Gould's frustration with Barbra. He complained she was not spending enough time with their son, admitted to one reported years later that her success was painful to him (compared to his own floundering career). But Gould was also a compulsive gambler and most of the money he risked was his wife's.
The year 1968 was a string one for movies, so it was not surprising that the Oscars were very well contested by strong competition. Barbra told a reporter "I can't win. Not me." But she did. It was a tie between her for "Funny Girl" and Katharine Hapburn for "The Lion in Winter". When she collected her Oscar, she stared at the coveted statue and squealed, "Hello, gorgeous!"
On April 21, 1969, Louis Kind died of heart failure in Brooklyn at the age of 76, one week after watching the stepdaughter he had abused as a child win the highest honor of her industry. He left most of his estate to Roslyn (who, like her famous half-sister, also changed the spelling of her name from Rosalind) and three children from his first marriage. He made no mention of Barbra, who did not attend his funeral.
Text above is adapted from the following books. Sincere appreciation and thanks.

Her Name Is Barbra - by Randall Riese.
Streisand: the intimate biography - by James Spada.
Streisand: the pictorial biography - by D.Harvey and J.Harvey.

Midi file from the On A Clear Day Jukebox.